Flitzer Sport Flying Association
---
Bernard "Chips" Carpenter's Z-21B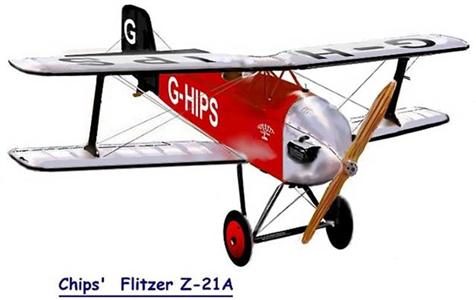 ---
December 10, 2007 - Metal forward end of Z-21B

Groups,

Here's Von Schmirk's Z-21B forward fuselage with the metal skinning temporarily in place. This I think will be a very special machine and certainly lifts the Habicht out of the ordinary.

Von Schneer are you going to follow suit with your Z-21B Roundtail?

Kessler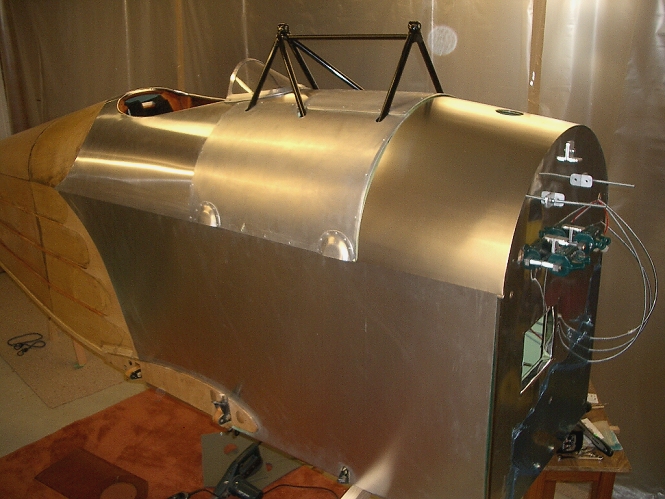 Chips von Schmirk
---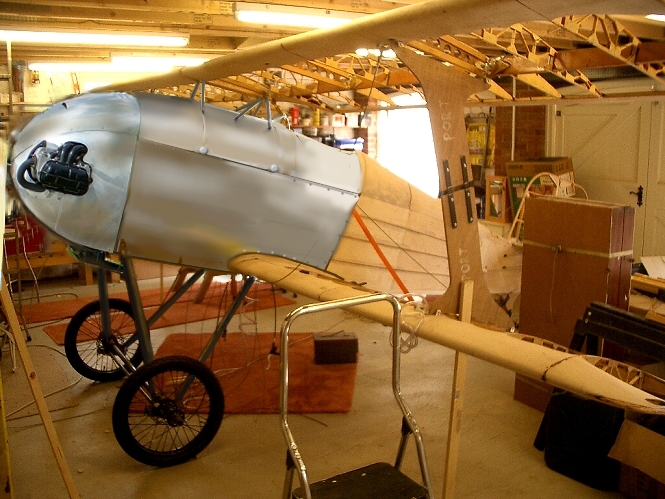 ---
January 24, 2008
Leute,
Our Leader has decreed that wing spars must be stronger, so I ran into the workshop to do his bidding. Attached is the first stage complete, with the conflicting struts and gussets cleared away. Next stage is making all the parts and extending the 4mm doubler out to at least 24". Those pix will follow soon.
If you have opted for the closed gusseting on the compression tailrib, as I did, you will have great fun cutting the ply away! I used my Dremel with cutting wheel in the end.
Chips von Schmirk
| | |
| --- | --- |
| | View from other end. |
---
March 10, 2008 - G-ERTI's Frilly Bits
| | |
| --- | --- |
| | Horns to be fitted and patched. |
---
April 1, 2008 - G-ERTI's New Clothes

Group,

Here is the first official picture of Bernard Carpenter's fuselage with fabric covering over the stringers. Very thin aluminium cladding will be fitted forward.

So far his is unique in being stringered rather than finished with slab-sided plywood - the stringers being applied over the plywood of course. On the Meteor Speedwing and Z-4 Hauk the rear fuselages are open work, so stringers can be used on these if desired, although on the Z-4 weight is at a premium to comply with the Microlight stalling speed.

Lynn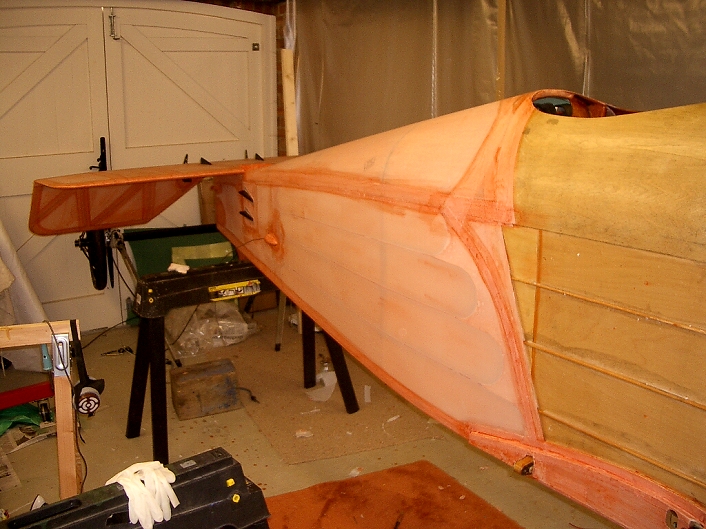 ---
May 2, 2008 - G-ERTI's Paint

Group,

Herewith the first 'painted' pictures of the fabulous Gerti! Wonderful von Schmirk, what frabjus joy!

Cheers,

Lynn



---
May 12, 2008 - G-ERTI's Paint

Group,

Here's Chips von Schmirk's utterly fabulous Z-21B Habicht, G-ERTI, seen enjoying the sunshine in her new clothes.

This is going to be a superb aeroplane. Don't forget, they fly as good as they look!

Just gorgeous, Chips!

Lynn



---
May 17, 2008 - More G-ERTI's Pics

Group,

The relentless progress of Chips' Habicht continues.

Lynn



---
June 25, 2008 - More G-ERTI's Pics

Group,

Here's are a number of pictures of Leutnant Chips von Schmirk's Z-21B Habicht with the full empennage fitted.

For those unfamiliar with the 'B' designation, it covers not only the 24" wide fuselage but also a slightly deeper decking for taller pilots.

This is a very handsome aeroplane I'm sure all would agree.

Lynn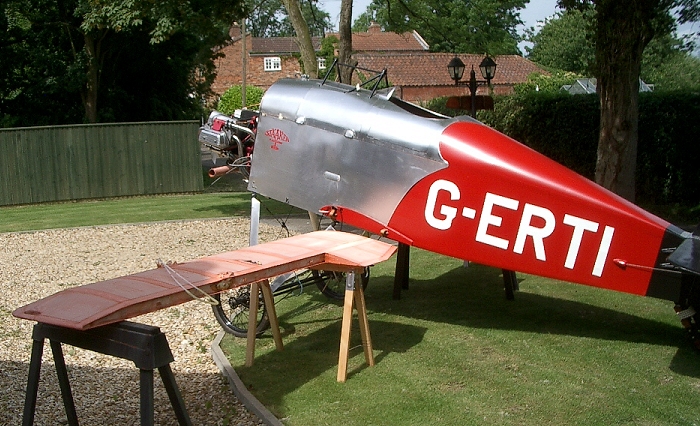 Chips' Z-21B with the port lower wing in the foreground.
It would look good with a radial, nichts wahr!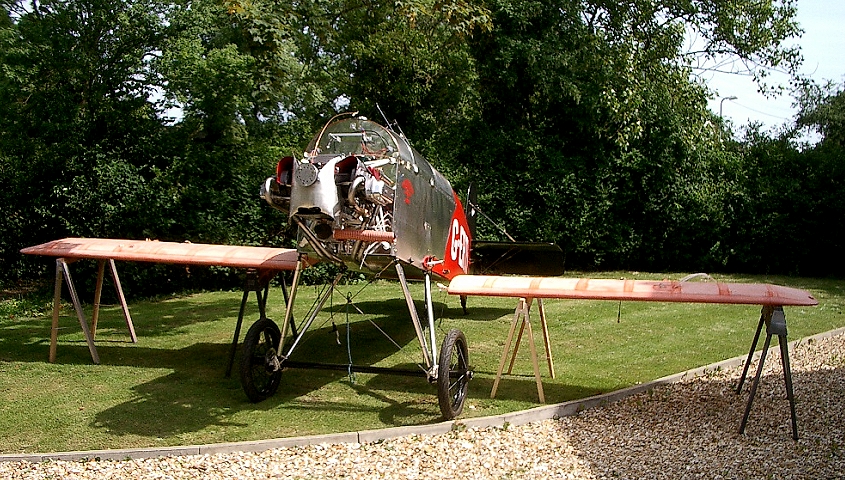 Here's another view of G-ERTI showing the commencement of the aluminium engine cowling which Chips is creating on his English Wheel. The frontal compound-curved section is shown in place with a welding rod bent above the engine to represent the curved line of the upper cowling. Note the chin intake in the aluminium for sump-cooling. The orange hot-air pipe is extending horizontally for the present. Chips is creating the cowling exactly to the plans by the look of it. Nice work Bernard.
---